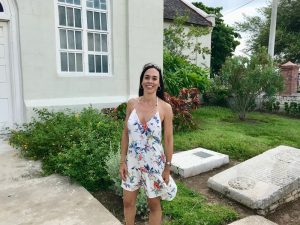 Taking a trip to Jamaica and then trying out something new on social media while being there can be a bit daunting. I tend to get overwhelmed so easily when I step out of my comfort zone and I see all this new stuff heading my way. I don't know about you but I often freeze, thinking that I won't be able to handle it all as it's just too much.
Thankfully, I'm happy to say that on this trip I discovered that I didn't have to 'handle it all'. I could breathe, relax and take it one step at a time…finally!
After all the effort of attempting to post a 'story' on Instagram, I began to realize that it didn't have to be such a big deal after all. Even though my first attempt didn't work out, the help that I did need came to me out of nowhere, as I was willing to face my fear and just try, no matter if I failed.
Having this attitude made everything so much easier and with my second attempt to post, things really fell into place. My friend Suzanne helped me take the pictures and video and then I posted them at the right time. I was satisfied with my efforts and I believe my little social media project did work out.
So now I have been able to take another step forward in trying something new on social media, even though it might seem small. It's amazing to me how things can work out if one is willing to take the initiative, despite any doubts and fears. Now I feel that I can try something else that's new and unknown and chances are it will turn out okay, even if I end up having to do it more than once. I encourage you to take the leap, whether it be big or small. You just might do it!
Save
Save
Save
Save
Save
Save
Save
Save
Save
Save
Save
Save
Save
Save
Save
Save
Save
Save
Save
Save
Save
Save
Save
Save
Save
Save
Save
Save
Save
Save
Save
Save
Save
Save
Save
Save
Save
Save
Save
Save
Save
Save
Save
Save