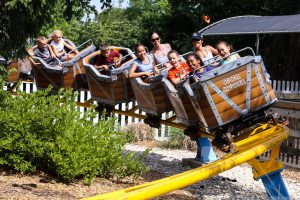 After ten years in the Brandywine Valley area I finally made it to Hershey Park. My summer house full of children would not let me sit it out this time around, and so I found myself driving in convoy through Pennsylvania's beautiful Amish country (the GPS for some reason took us on the scenic route). I am not a fan of thrill rides, but I enjoyed the riot of colour and motion of this amazing amusement park from the calm of the monorail, the Ferris Wheel and the Sky View. Being up so high in the Ferris Wheel was an unusual perspective and allowed me to pull back and see the entire park with its energy and vibrance. It was a beautiful clear day, and fortunately not too hot, and the view was far different from anything I usually see. Don't be surprised if my next work of art is unusually bright and busy! Eventually my resistance was broken down by the endless begging of my nieces and nephew and I found myself having a blast on the Cocoa Cruiser roller coaster and the bumper cars.
An amusement park with a gaggle of kids is a great reminder of the adage, 'time flies when you're having fun.' After eight hours at the park they were just getting started! It took us another hour to actually leave the park because everyone wanted, "one last ride, please!!!!"
We got home at midnight, exhausted of course, and it took me about two days to recover. I can't say I will be going back to any amusement parks any time soon (if ever!) but it was good for me to break my routine and do something completely different from my usual activities, and to enjoy the day with my family, who had a blast.
Save
Save
Save
Save
Save
Save
Save
Save
Save
Save
Save
Save
Save
Save
Save
Save
Save
Save
Save
Save
Save
Save
Save
Save
Save
Save
Save
Save
Save
Save
Save
Save
Save
Save
Save
Save
Save
Save
Save
Save
Save
Save
Save
Save
Save