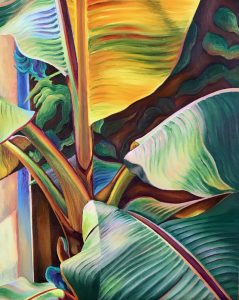 It's been quite a while since my last blog, however, now that it's spring I'm feeling more inspired. Just being able to go outside and really feel some warmth in the air is truly uplifting and creates some springtime excitement!
My art exhibition "Caribbean Impressions of the Delaware Valley", begins in less than eight days from now. Having almost completed the framing process, I have started to reflect on a few of the paintings that will be in the show and how they came about. Three of them readily come to mind and they are "Looking Through", "The Opening" and "Bird Dog".
In the spring inspiration is all around me, what with everything coming back to life once again, and I find that being outside really sparks my creativity and imagination. "The Opening", a closeup of banana leaves, is symbolic of rebirth with all its leaves unfolding so beautifully into the majestic fronds that they are. I think that is why I was drawn to it, and the other two paintings mentioned above also bring about a similar sentiment.
"Looking Through", a watercolour of a red sunflower amongst its leaves is particularly striking to me, as I had actually planted it myself and am so pleased to have been able to recreate something that I had helped to contribute to. "Bird Dog" speaks for itself, as our dog Lucky loves to chase birds and what better time than in the spring and the summer!
This brings me to planting in the spring, which I have recently done again. As I see the plants starting to grow (including more sunflowers), I'm getting inspired all over again as I find such joy and fascination in the growth process.
It's truly wonderful to soak up all that springtime has to offer and at the same time receive the bonus of inspiration. This show will be a celebration of some of the natural surroundings of the Delaware Valley, embellished with a Caribbean palette, and I am thrilled to have this opportunity to share it with you all! Thank you!!
Save
Save
Save
Save
Save
Save
Save
Save
Save
Save
Save
Save
Save
Save
Save
Save
Save
Save
Save
Save
Save
Save
Save
Save
Save
Save
Save
Save
Save
Save
Save
Save
Save
Save
Save
Save
Save
Save
Save
Save
Save
Save
Save
Save
Save