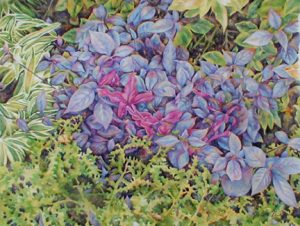 Deciding on what to paint next can sometimes pose a dilemma for me. I'll now tell you a little story about that and how I managed to resolve it.
One day years ago, I didn't have a clue about what to paint next. This made me a bit anxious, but instead of forcing the issue this time, I decided to let it go and stop worrying. I instead went about my day to day activities and in doing so, I was "led" to a wonderfully inspiring scene some days later.
In this case, I went out to take some photos in Runaway Bay, Jamaica for a project that I was doing at the time. It was a commissioned project from what I remember and while I was looking for images and clicking away with my camera, I turned around for a moment and saw an image that immediately took my breath away! That image eventually turned into a wonderful painting. This time I had created something that didn't feel as though it was planned. It was just there waiting for me, which made it so easy. By dropping all planning, I created something from nothing it seemed. To me that was magical! And come to think of it, more than a few of my paintings have come about in similar ways. What serendipity!
In sharing this story, I would like to say to any of you who may be having difficulty in knowing what to do next, whatever it may be, I encourage you to let it go. Allow the process to unfold in its own way and in its own time. And in doing so, you just might be able to manifest an idea or image that's better than anything you could ever have imagined!
Save
Save
Save
Save
Save
Save
Save
Save
Save
Save
Save
Save
Save
Save
Save
Save
Save
Save
Save
Save
Save
Save
Save
Save
Save
Save
Save
Save
Save
Save
Save
Save
Save
Save
Save
Save
Save
Save
Save
Save
Save
Save
Save
Sav
Save
Save
Save
Save
Save
Save
Save